---
Table of Contents
---
Pay Utility Bill Online is a Web application that allows online payments for utility bills received from the Town of Warrenton.
---
Your e-mail address is a unique identifier used to combine tickets marked for payment into one lump sum.
---
Cookies are small chunks of text sent between a personal computer and a web server. When a web site is contacted, certain information is sent from the web server and stored on the computer. The next time the web site is visited, the web server checks the cookie and gathers the information stored there. In this case, your e-mail address.
---
Please refer to your Tax Bill.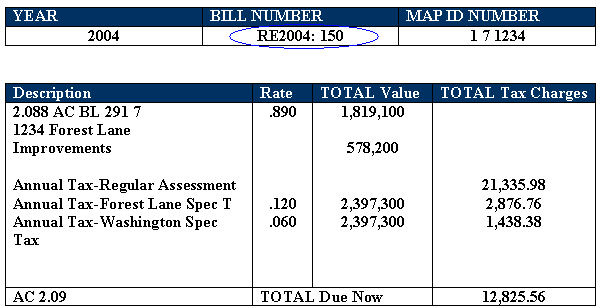 In this example:
Department Number is RE2004
Ticket Number is 150
Amount is 12825.56
---
Click on Continue to Pay Utilities link at the top or bottom of this page.
---
On the first screen, enter your E-mail Address and then press the OK button.

---
On the Pay Utility Bill Online Screen, enter the Customer Number from your bill and the Last Name on the account. Press the Search button.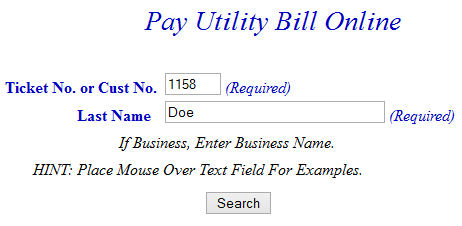 ---
Utility Bill Detail - This screen contains a breakdown of charges along with name and address information. Enter payment amount in the Enter Amount You Wish To Pay Today field. If the information shown is incorrect, press the Return to Search button and return to the Pay Utilities Online screen. If you wish to search for another ticket and attach it to the current bill before payment is made, press the Pay Another Utility Bill button. To pay the current bill only, press the CheckOut button.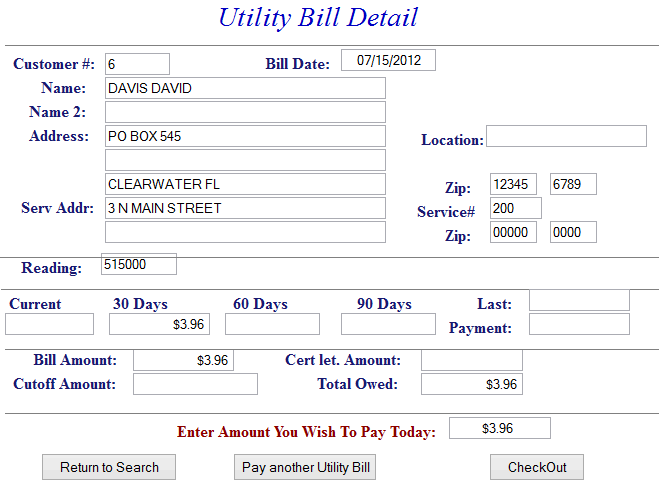 ---
Pay Another Utility Bill - Search for additional tickets using Ticket Number or Customer Number. Press the Search button to find ticket. The Add Another Bill option can be used as many times as necessary to designate bills for payment. If Add Another Bill was selected in error and you are ready to pay, press the Checkout button.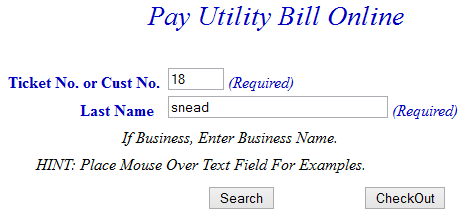 ---
On Line Payment Checkout - The Total Payments field displays the elected payment amount for the attached bills. All tickets can be removed by pressing the Clear Shopping Cart button. To pay by electronic check, press the Pay by e-Check button. For credit card payments, press Pay by Credit Card button.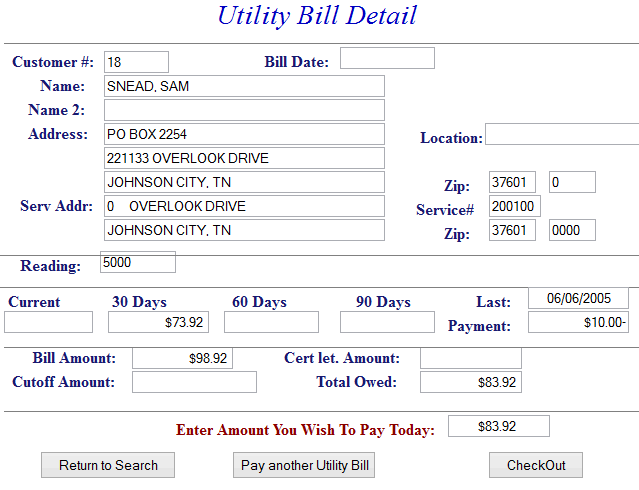 ---
Pay By Credit Card - Payment Amount + Convenience Fee = Total Due. Press Proceed to Payment button to enter Credit Card information.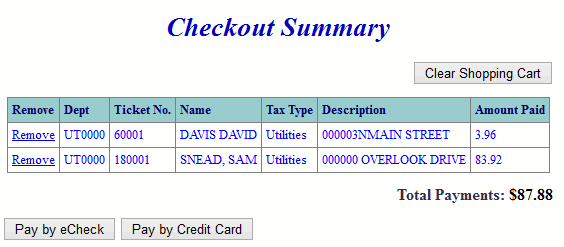 Input Credit Card and Billing Information and then press the I Authorize this transaction button. Pressing Reset button clears data from all information fields.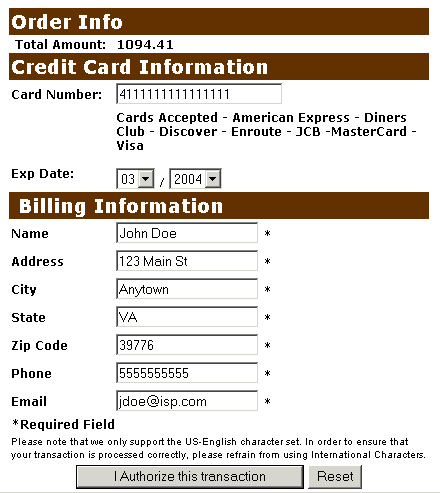 This screen shows Credit Card information as entered on the previous screen. Verify all information is correct and then press the Submit Transaction for Processing button. Press Back button on your web browser if the information is incorrect.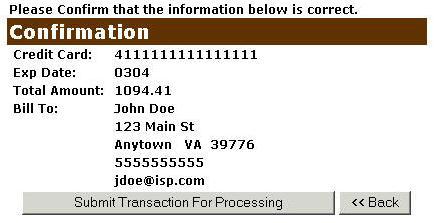 This screen announces if the transaction was approved. IMPORTANT: You MUST press the **REQUIRED: Complete Transaction button for the transaction to be applied to your property tax bill.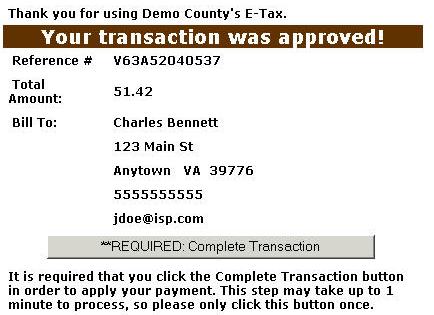 An online receipt is displayed. We recommend you print this receipt for your records.
---
Pay by Online Check - Payment Amount + Convenience Fee = Total Due. Press the Proceed to Payment button to enter Check information.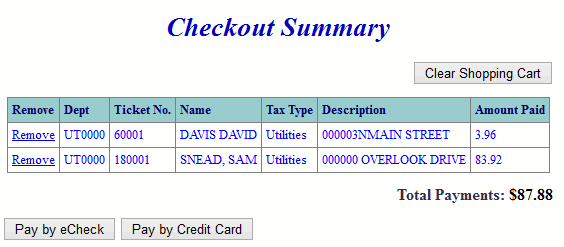 Input Check Information and validate. Next, proceed to pay.
An online receipt is displayed. We recommend you print this receipt for your records.
---
Yes, a Convenience Fee is applied to each transaction.
For Credit Card Payments: .0225% of the Total Bill plus 30 cents per transaction. The Convenience Fee is charged by Verisign and our Merchant Account for Accepting Credit Cards Online. The fee is automatically added to your Total Bill.
For Online Check Payments: No convenience charge applies to payment by online check.
---